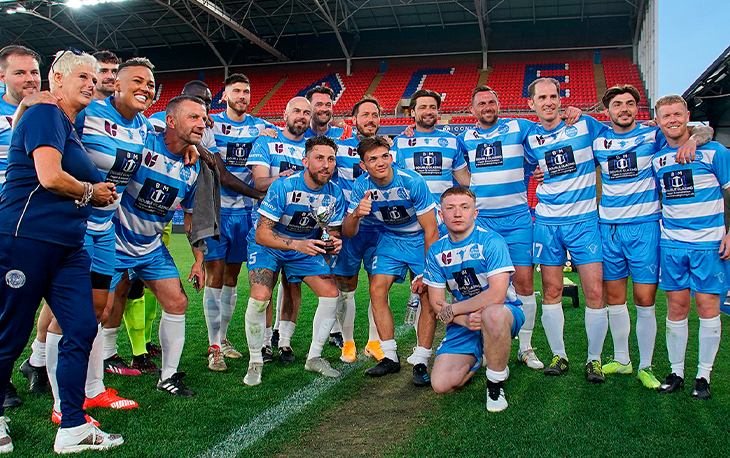 An all-star charity football match in May will see a roster of celebrities and ex-football pros face off, including former England stars Darren Bent and Lianne Sanderson, to raise thousands of pounds for Great Ormond Street Hospital.
Spearheaded by Jamie Groves, Regional Development Director at Funeral Partners, the second year of Goals 4 GOSH will take place at Selhurst Park stadium on 24 May with tickets now available online.
The Palace Pelicans and Crystal Koalas teams – both named after wards at Great Ormond Street Hospital – will go for gold in a 6:30pm kick-off under the leadership of team captains Lianne and actor Tamer Hassan.
The main event will be preceded by a TikTok tournament at 2pm – featuring some of the platform's biggest names such as Cal the Dragon, Shaun Nyland and Paddy Murphy – as well as a kickabout between local schools and former pros.
Jamie said: "The inaugural Goals 4 GOSH was a massive success last year raising £38,000. People were immediately asking when the next tournament would be, and celebrities were already putting their hats in the ring for 2022.
"As well as returning favourites like Geoff Bell and Tamer Hassan, I'm pleased to announce some new names taking to the pitch on 24 May."
Team captain Lianne said: "I'm really honoured to be playing for Great Ormond Street Hospital with Goals 4 GOSH and these awesome people.
"We've just handed over a cheque to Great Ormond Street Hospital from the last Goals 4 GOSH tournament, and we're going to raise even more in May."
Soccer AM's resident goalie George Kamurasi, known as Big G, added: "I am privileged to be part of such an amazing cause.
"The amount raised last year is nothing short of incredible. You know I will be there in May to do it all again and even beat last year's target."
Tickets can be purchased for £12 per adult and £7 for under 16s on the Goals 4 GOSH website, www.linktr.ee/Goals4gosh; on the Goals 4 GOSH Facebook and Instagram pages, @goals4gosh; or by searching for Goals 4 GOSH on Eventbrite, with all proceeds going towards Great Ormond Street Hospital Children's Charity.
Bronze, Silver, Gold and Platinum sponsorship opportunities are also available for businesses to see their names and logos featured on the kits of their chosen players.
Jamie concluded: "Goals 4 GOSH is being expanded with more matches and more players this year, with an aim to raise thousands of pounds towards the invaluable work of Great Ormond Street Hospital.
"We can't wait to welcome all of our supporters back to Selhurst Park Stadium on 24 May for some adrenaline-pumping matches."
Follow Goals 4 GOSH on social media to keep up to date on all the latest news and exciting developments.